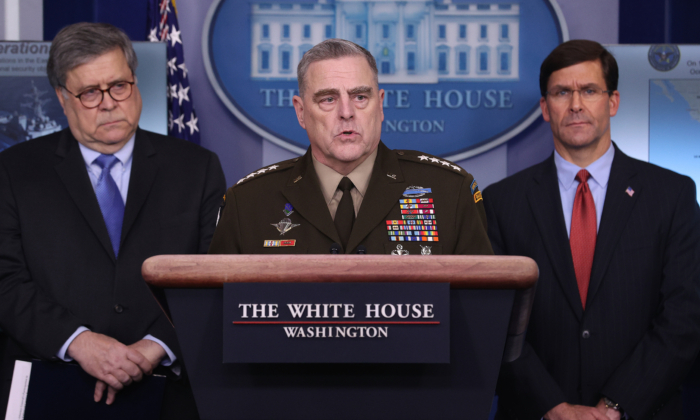 Chairman of the Joint Chiefs of Staff Gen. Mark Milley speaks about military operations during the daily White House coronavirus press briefing flanked by Attorney General William Barr (L) and Defense Secretary Mark Esper in Washington on April 1, 2020. (Win McNamee/Getty Images)
Source:
The Epoch Times
Published:
April 1, 2020
By: Ivan Pentchoukov
The
Navy
deployed warships to the eastern Pacific Ocean and the Caribbean Sea at the direction of President Donald
Trump
on April 1 as part of an operation to counter drug
cartels
which, according to intelligence, are actively planning to exploit the global CCP virus pandemic to smuggle more drugs into the United States.
The mission involves sending additional Navy warships, surveillance aircraft, and special forces teams to nearly double the U.S. counter-narcotics capacity in the Western Hemisphere, with forces operating both in the Caribbean and eastern Pacific. Defense Secretary Mark Esper said the mission would be supported by 22 partner nations.
"As governments and nations focus on the coronavirus, there is a growing threat that cartels, criminals, terrorists, and other malign actors will try to exploit the situation for their own gain," Trump said. "We must not let that happen."
Today's News Updates
U.S. authorities have long been short on resources in the area to interdict all of the drug traffic heading along naval routes to the United States. The intelligence community has long been aware of the routes, according to Attorney General Bill Barr. Last year, authorities seized 280 metric tons of drugs in the area.
Trump made the announcement one day after the White House advised Americans to brace for the deadliest days of the
CCP virus (Chinese Communist Party virus)
, commonly known as the novel coronavirus.
According to Chairman of the Joint Chiefs of Staff Gen. Mark Milley, the United States is in possession of intelligence showing that the cartels are looking to exploit the crisis to smuggle more drugs into the country.
The enhanced mission has been months in the making. The formal launch comes days after the Justice Department's indictment of Nicholas Maduro, Venezuela's illegitimate socialist dictator, and members of his inner circle and military. They are accused of leading a narcoterrorist conspiracy responsible for smuggling up to 250 metric tons of cocaine a year into the United States—about half of it by sea.
"If I was just indicted for drug trafficking by the United States with a $15 million reward for my capture, having the U.S. Navy conducting anti-drug operations off my coast would be something I would worry about," said Sen. Marco Rubio, a Florida Republican who has been among those calling for a tougher stance against Maduro.
It also comes as Maduro steps up attacks on his U.S.-backed rival, Juan Guaidó. Maduro's chief prosecutor ordered Guaidó to provide testimony Thursday as part of an investigation into an alleged coup attempt.
Guaidó, the head of Venezuela's congress who is recognized as his country's legitimate leader by the United States and almost 60 other nations, is unlikely to show up, raising the possibility he could be arrested. The United States has long insisted it will not tolerate any harm to Guaidó.
"No matter where you sit ideologically, any move to try to bring democracy back to Venezuela requires first recognizing the criminal nature of the Maduro regime, and making moves that scare the regime into negotiating," said Raul Gallegos, a Bogota, Colombia-based director in the Andean region for Control Risks, a consulting group.
Maduro blasted the Trump administration's offer of a $15 million reward for his arrest, calling it the work of a "racist cowboy" aimed at getting U.S. hands on Venezuela's vast oil reserves—the world's largest. He also points out that the vast majority of cocaine leaves South America from Colombia, a staunch U.S. ally.
Read more at:
TheEpochTimes.com
Discerning the Mystery is a website dedicated to awakening and educating the people to their true potential of mental, spiritual, emotional, and physical growth. It can be difficult work, but if just one person benefits from these efforts, it is entirely worth it.

If you enjoy what you read here, please give the post a like and share on social media. Also, if you enjoyed this article, please consider leaving a donation.
Feel free to send us an email and tell us what you think. If you have any suggestions or subjects you would like to see discussed, please let us know.